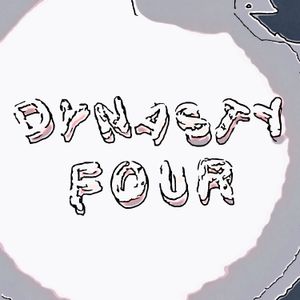 Garage rock for the ages.
Separated by relocation, reunited by pandemic, Dynasty Four are a silver-lining kind of band. Fun-first yet fierce; scrappy but sincere. 
Dynasty Four's hooky collection of ear-worms deftly blend pop, punk, and surf into their own dynamic brand of garage rock. 
Dynasty Four is the latest project from Nikkole Couture and Andrew Couture, the songwriting duo behind First Person Shooter, The Nancy Boys, and Jinx Malloy.  
Originally formed in 2012 in Halifax and relocated to Toronto in 2014, they brought their electric live presence to local venues and small festivals throughout 2015 before releasing their debut album, Anachronisms, in December.
But less than a month later another move - this time to the UK - prompted the band to (reluctantly) part ways. 
Fast forward the fall of 2020, a break in the pandemic clouds: the expats return home to Toronto and got the band back together. 
In June 2022 Dynasty Four proved that what is dead may never die with the release of their EP, Revivals.
Next for Dynasty Four is a return to live shows to support their upcoming EP, Revisions.